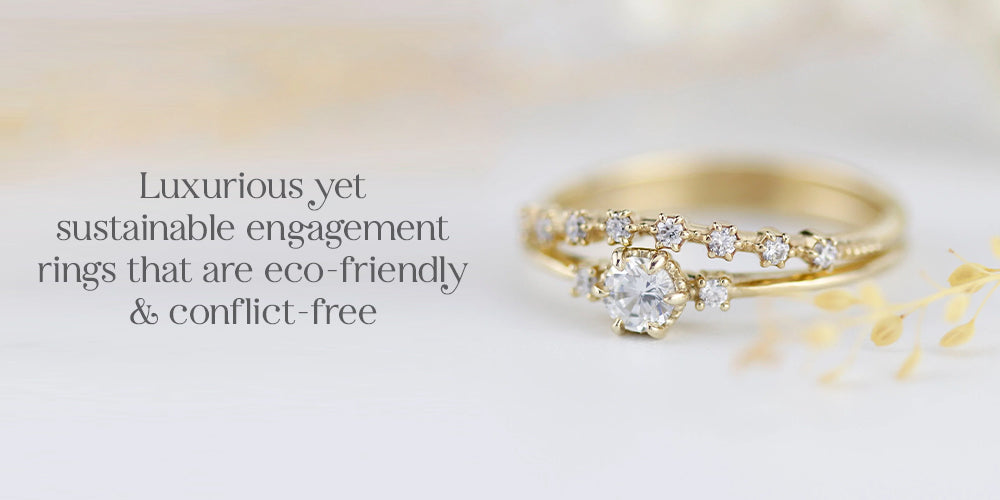 Sustainable Engagement Rings: Eco-Friendly Options for Your Big Moment
An engagement ring is a one-of-a-kind piece of jewelry worn by couples as a symbol of their commitment to future marriage. It is an everlasting accessory to be cherished in every moment of life. But when it comes to buying the perfect engagement ring, we must consider social welfare as well as environmental concerns, as there are many traditional engagement rings available that can badly harm the environment.
Not everything that sparkles is green – that's how eco-friendly engagement rings came into existence. Thanks to them! They not only look elegant but have minimal impact on the environment. Especially for socially conscious people, eco-friendly engagement rings are a must-have option. But are you sure you can find an engagement ring that is sustainable and has minimal environmental impact? 
Probably not!
The following are FAQs that will surely come to mind when considering buying an eco-friendly engagement ring.
What makes an engagement ring ethical & eco-friendly? 

How are they crafted? 

How do they differ from standard engagement rings?
In this post, we'll clear all your doubts as well as suggest to you some of our sustainable engagement ring options.
What are ethical engagement rings & how are they designed?
Ethically crafted or sustainable engagement rings can be anything from vintage to modern. But the uniqueness is they are made from gems and metals sourced from conflict-free economies (which hold strict regulations on who and how they are produced) and have minimal or no impact on the entire ecosystem. They make us feel proud when wearing them. Their production occurs worldwide, where the makers craft them in a safe and fair working environment.
To help you understand the progress we have made, from sourcing conflict-free materials to providing a safe work environment - We at
NOOI JEWELRY
, have created more sustainable and ethical pieces that are sure to brighten up your big moment. The engagement rings category mentioned in this article are not only graceful but are also crafted from more responsibly sourced materials. They are better for humans, animals, plants, and the overall environment. Here are some top picks from our exclusive collection:
Round Halo Engagement Ring


Round halo engagement ring in diamond is one of our best sustainable diamond engagement rings crafted using recycled or ethically sourced material and conflict-free diamonds. It is inspired by the floral design that adds grace and makes it classy. This delicate piece is one of the best picks from our diamond rings exclusive collection. This gold ring with small diamonds is available in 18k yellow gold, 18k rose gold, 18k natural white gold, and 18k white gold + rhodium. It is the best ethical and eco-friendly option for your big moment.
Please visit our website for further ethical & sustainable Diamond Engagement Rings!
Moonstone Engagement Ring
Thoughtfully designed, this 18k yellow gold moonstone ring is a perfect delicate piece to give an imperial spark to your engagement outfit. It is exquisitely crafted in fair-trade yellow/white gold, conflict-free diamonds, and a lustrous moonstone. This real moonstone ring is created with no violations of human rights and minimal negative impact on the environment. A sustainable engagement ring that can also be used as a moonstone wedding ring to make your memorable moment full of grace and ethics.
Please visit our website for further ethical & sustainable Moonstone Engagement Rings!
Sapphire Engagement Ring

Give a boost of color to your gorgeous engagement outfit with this 18k solid gold teal peacock sapphire studded engagement ring. It is sustainably created using ethically sourced sapphire stone, diamond, & white/yellow gold. If you're looking for a natural, vibrant, elegant, as well as sustainable engagement ring, this modern sapphire ring with diamond is the must-have pick for your wedding and engagement.
Please visit our website for further ethical & sustainable Sapphire Engagement Rings!

Aquamarine Engagement Ring

Want something a little different? With the help of skilled jewelers and ethically sourced materials, we have designed this simple yet sophisticated aquamarine diamond ring. It features fair-trade 18k yellow gold, emerald-cut aquamarine, and conflict-free diamonds that create an unexpected yet delightful combination. Available in 18k yellow gold, rose gold, natural white gold, and white gold + rhodium. 
This emerald-cut aquamarine engagement ring is the perfect choice for those who love natural-colored stone as well as do not want to harm the environment, humans, and animals.
Please visit our website for further ethical & sustainable Aquamarine Engagement Engagement Rings!
If you are looking for the best sustainable engagement ring. So now you have NOOI JEWELRY's top recommendations for ethical engagement rings. Find the most suitable ring for your dear life partner at NOOI JEWELRY. We hope that this article has given you some idea about eco-friendly engagement rings. For more variety in eco-friendly rings for engagement,
his and hers wedding bands
, and
bridal set rings
, please visit our website -
NOOI JEWELRY
. We hope to see you soon and become one of our beloved customers.