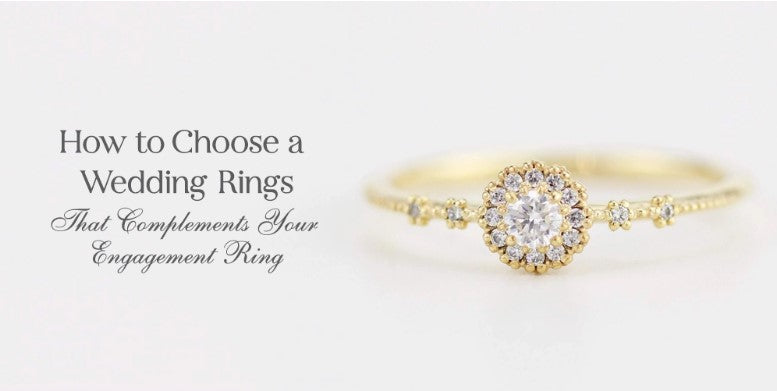 How to Choose a Wedding Ring That Complements Your Engagement Ring
To have a ring that gives you love chills yet complements your style is a dream many of us manifest from the day of engagement. Choosing a wedding band can be exciting yet confusing for some of us, especially when you want to complement the engagement ring. The day you have decided to have wedding bells just after your engagement, it becomes apparent that you start searching for the perfect ring that emerges as the start of your big day. Well, Congratulations! You have entered the right zone of the jewel gallery, where the choices don't stop. Nooi Jewelry has always been called a trusted jewelry brand, supplying exclusive collections of rings over the globe. 

Surprisingly or not, we have the perfect deal for you that you have been manifesting for a long time. Continuing this blog, you will come across some great ideas and deals which take you to your final destination of choosing wedding rings. 
Choose the shape and cut that complements your engagement ring 
Well, the foremost important thing while selecting the wedding ring that goes along with your engagement band is the shape and cut. Ultimately, the look grabs everyone's attention. In the market, there are several cuts, such as emerald, pear, or oval, but the simple curved wedding band is always a safe and immaculate choice. It doesn't matter what your engagement ring's cut and shape are. Our timeless wedding ring will always complement your engagement ring through its unique look. 
Don't overlook the fact of metal's importance 
When selecting the perfect ring, many of us skip the essential part of ring characteristics: metal. Ring metal is always considered important in terms of traditional sentiments and comfort. Although having the same ring metal for engagement and wedding will not make any huge difference, you can pick them if you are looking for one. The most used combination for ring metals is gold with platinum, and nowadays, rose gold wedding bands are becoming a spotlight around most couples. So it's easy to have a smart option that suits your style. 

Designs that suit your previous ring 
Multiple designs are available in the market with unique styles, curves, shapes, cuts, and textures, which are unique and breathtaking. But what about you? We not only have a bundle of different types of rings but also offer designer rings, such as crown wedding band set. These one-of-a-kind rings steal the show and complement maximum ring designs.
Think over the carat and weight you want 
Your engagement ring and wedding band should complement each other through their sizes and weights, making you comfortable and elegant. Also, buying wedding rings randomly without knowing the carat weight might put you in a difficult situation. So always have a clear mindset, whether you want 18k or 24k.
Always consider your budget 
It is always the best way to have a clear budget when shopping for a wedding ring. A decent range will let you know what kind of ring you are looking for and whether it fits your budget or not. 
The ring that connects you to love, passion, and admiration! 
Finally, finding a perfect wedding ring that complements your engagement ring will take many considerations and decisions. But the final choice should be yours. Always take a decent amount of time and clearly understand your requirements. However, Nooi Jewelry can help you to bring amazing wedding bands. For more information, visit our website.